RV Inn Style Resorts Amphitheater | Ridgefield, Washington
EVENT CANCELLED. Please contact your ticket point of purchase to claim a refund on your tickets.
This summer, hard rock icons Godsmack and Staind are joining forces to embark on a massive co-headlining tour! This highly-anticipated outing will cover over 20 major cities in North America and will feature sensational rock hits that took over the airwaves during the 2000s! These bands have consistently come out with critically-acclaimed efforts through the years and now the're ready to conquer the nation! Moreover, Godsmack will be featuring several new songs in addition to performing their fantastic hits and fan favorites! On Sunday, 20th August 2023, Godsmack and Staind will be lighting up the RV Inn Style Resorts Amphitheater (formerly Sunlight Supply Amphitheater)! Fans can look forward to the bands' electrifying sets as they deliver music credited for influencing the entire hard rock industry! Tickets to see Godsmack and Stain tear up the RV Inn Style Resorts Amphitheater are now available!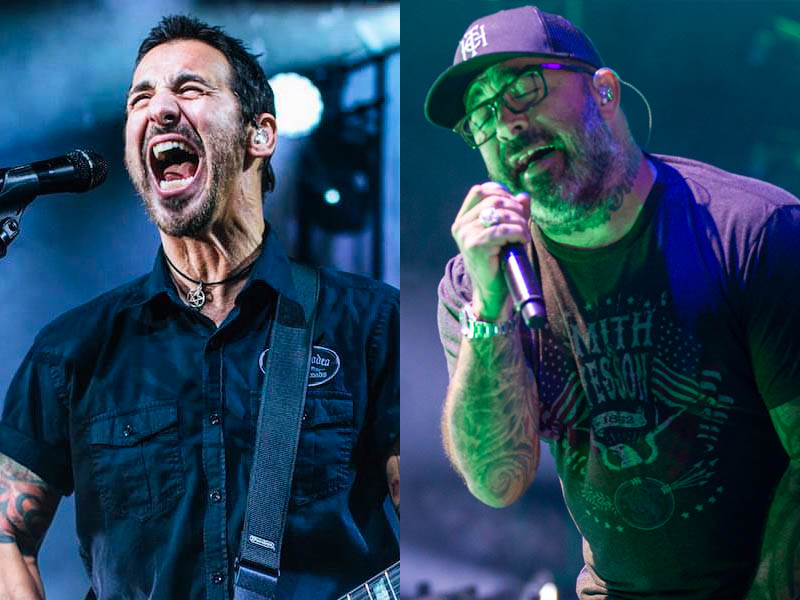 Hard rock outfit Godsmack took the rock and heavy metal industry by storm with their hard-hitting riffs paired with powerful melodic vocals care of frontman Sully Erna. The band emerged in the mid-'90s and found phenomenal commercial success with their studio albums, even earning three Grammy nominations and winning a Billboard Award. In 1998, Godsmack released their self-titled major-label debut, which achieved an excellent breakthrough into the Billboard charts. The album peaked at number 2 on the Heatseekers and landed at a moderate number 22 on the Billboard 200 chart. The album also spawned several chart-performing singles, such as "Bad Religion," "Voodoom," "Keep Away," and "Whatever." The album moved on to sell over four million copies in the U.S., making it their best-selling effort to date.
After an excellent major label debut, Godsmack soared to number 5 on the Billboard 200 with their 2000 effort, Awake. The critically acclaimed record featured hits such as "Sick of Life," Bad Magick," "Greed," and the number 1 Mainstream Rock single "Awake." The album later sold over two million copies, earning the band a double platinum certification.
By 2003, Godsmack has achieved their first number 1 album. The third album, Faceless, topped the Billboard 200 chart and spawned several hard rock staples, including "I Stand Alone," the Grammy-nominated "Straight Out of Line," and "I Am." This 2023, Godsmack will promote their latest album, Lighting Up the Sky, which dominated Billboard's Top Hard Rock chart.
Meanwhile, co-headliners Staind is set to perform their massive hit singles that conquered rock radio stations in the 2000s. The band is responsible for several mainstream hits, such as "Fade," "So Far Away," "It's Been Awhile," "Right Here," and more. Staind has released 22 chart-performing singles, five of which earned number 1 on the Alternative of Mainstream Rock chart. They also achieved their first big break after getting a killer record deal. They released their major label debut, Dysfunction, which showcased a dark alternative metal sound coupled with frontman Aaron Lewis' melancholic lyrics. By the 2000s, the band had released three number 1 albums, two of which are certified platinum in the U.S.
Upon announcing the tour, Godsmack and Staind expressed their utmost excitement about this upcoming summer trek. In a statement, Staind mentioned, "We're really looking forward to being out with Sully and the guys this summer. The first time we shared the stage with Godsmack was the 1998 Warped Tour, and here we are 25 years later, still going strong. We're stoked to be sharing the stage with our old friends."
Catch Godsmack and Staind conquer the RV Inn Style Resorts Amphitheater (formerly Sunlight Supply Amphitheater) on Sunday, 20th August 2023! Hurry and buy your tickets now!