RV Inn Style Resorts Amphitheater | Ridgefield, Washington
When the earth's greatest forces align with supernatural powers, the result is a magnificent spectacle! Santana & Earth, Wind and Fire — two powerhouse music icons embarking on a tour deforce and coming together in one stage. The Miraculous Supernatural 2020 Tour– no other name could aptly describe such musical showdown of epic proportions. The Miraculous Supernature tour of Santana & Earth, Wind and Fire are slated for a one-night-only engagement at the Sunlight Supply Amphitheater on Friday 26th June 2020. This definitely sets the mood for some boogie wonderland beats and smooth rhythms. But before you put on your dancing shoes, get your hands on those show tickets. Get your fingers busy by clicking on the 'get tickets' link on this site. Don't blow this chance to 'ba de ya' and get that night to remember!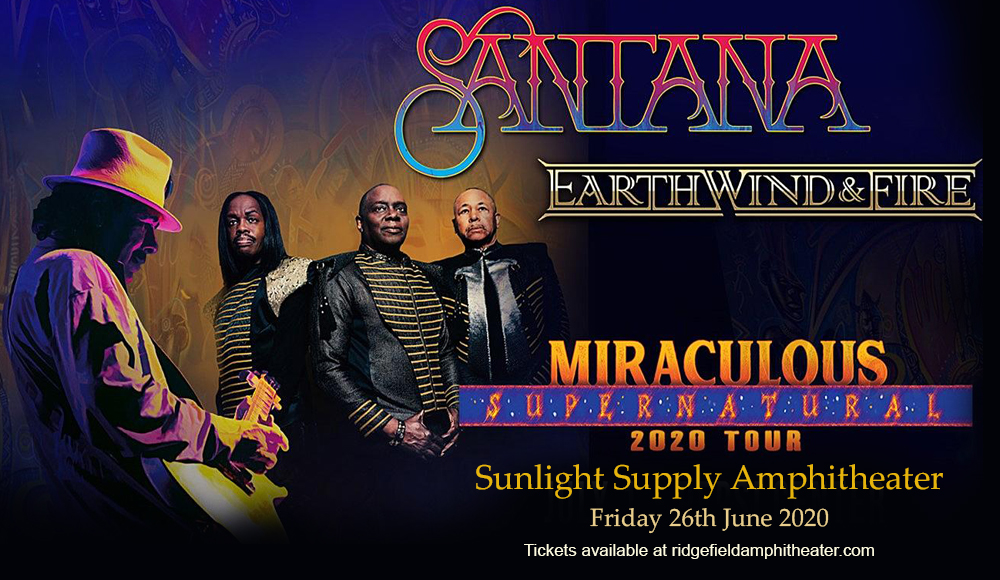 No other name in Latin – Chicano rock stands out other than Santana. Formed in San Francisco in 1966 by Mexican-American guitarist and songwriter Carlos Santana, the band's initial wave of success happened during their appearance at 1969's Woodstock. Being the only consistent member, Carlos Santana led his band through a booming career during the 70s. However, in 1999, Santana wound up new heights of commercial and critical success with the album "Supernatural", powered its singles "Smooth", featuring singer Rob Thomas, and "Maria Maria". The album reached No. 1 in eleven countries and sold 12 million copies in the US. With 43.5 million certified albums sold in the US, and an estimated 100 million sold worldwide, Santana is in an enviable place of being hailed as one of the best-selling groups of all time.
One can hardly picture the disco scene without the music of Earth, Wind and Fire buzzing on their ear. The group's musical genres cover the expanse of R&B, soul, funk, jazz, disco, pop, rock, dance, Latin, and Afro pop sounds. "September", "Boogie Wonderland", "Let's Groove", are dancefloor gems, while "Reasons" and "After The Love Has Gone" are the everlasting strains of love and soul. Two of the most credible music press have commended their influence and impact in music. Rolling Stone called them "innovative, precise yet sensual, calculated yet galvanizing" and declared that the band "changed the sound of black pop".VH1 has also described EWF as "one of the greatest bands" ever.
Santana & Earth, Wind and Fire is without a doubt, a winning combination. These two supernatural forces teaming-up in one double-headliner tour is hands down, a team to beat.
"It is a great joy and honor to co-share music with the magnificent elements of Earth, Wind & Fire. We look forward to delight, joy and ecstasy!", says Santana. "I feel like a 20 year old on stage playing with my band, and they deliver incredible energy on every song. When we hit the stage, we know we will touch your heart and make you dance, sing, cry, laugh and leave your worries and fears behind. The shows will feature the hits of yesterday, today and tomorrow…with energy!"
"We are excited to rock the USA alongside our friend Carlos Santana and his band with their off-the-chart musicianship and high energy show," said EWF lead vocalist Philip Bailey. "We're going to bring the mighty elements of the universe to the stage and take fans on a journey they'll never forget. This is gonna be a blast!"
Join the revelry of this iconic concert that will go down to one of the finest moments in music. Don't miss it!