RV Inn Style Resorts Amphitheater | Ridgefield, Washington
Their fans were taken for fools as they waited for this moment to happen… The fools believed, now they'll get to listen to the music once more of The Doobie Brothers & Michael McDonald. Indeed, after 25 years, their fans will now get the chance of a lifetime to see The Doobie Brothers & Michael McDonald live in one stage at the Sunlight Supply Amphitheater on Sunday 6th September 2020. One of the most-awaited and exhilarating reunion tours ever is not worth missing. The hot ticket alert has been raised. Now get your fingers busy by clicking on the 'buy tickets' link on this site — right here, right now!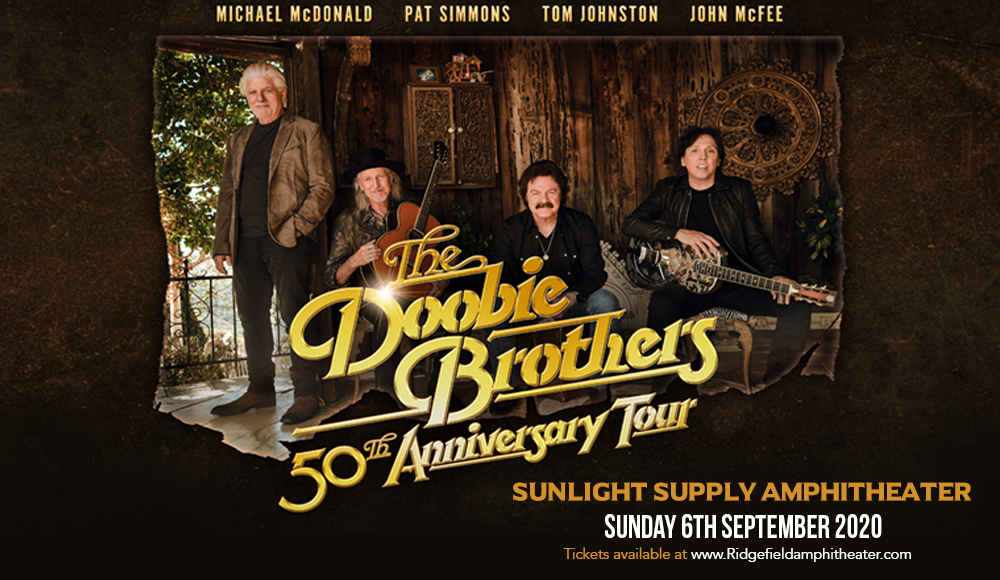 "You might remember him from, well, he has his own band these days," he said. "But you might remember him from his band, the Doobie Brothers — Mr. Michael McDonald."….
Those were the words that made it official that The Doobie Brothers & Michael McDonald tour is as real as it gets. And this couldn't happen at a much opportune time as this for this is the year that the band is celebrating their 50th anniversary.
"We're truly excited about our 50th anniversary tour, as it's a celebration of the band's entire history…. We'll be performing songs from our full catalog, as well as new music," says Doobie guitarist Tom Johnson.
And making a comeback onstage with his 'brothers' for after 25 years of estrangement, Michael McDonald says: "With the Doobies, everybody in the band was proud to be a Doobie Brother. And to this day, I think of myself as a Doobie Brother — all these years later."
Another reason for celebration is the long overdue induction of The Doobie Brothers into the Rock and Roll Hall of Fame, slated on May 2, 2020. The Doobie Brothers were inducted into the Vocal Group Hall of Fame in 2004, and has since old more than 40 million albums worldwide, fired up by their colossal hits worldwide such as "Listen To The Music", " What A Fool Believes", "Talkin' It To The Streets", and many more. Michael McDonald joined the band as lead vocalist in 1975 and initially remained in the lineup until 1982.
The Doobe Brothers hold five top 10 singles and 16 top 40 hits, that have spawned 3 multi-platinum, 7 platinum, and 14 Gold albums. The are one of the elite recepients of the rare "diamond record" for the album "Best of the Doobies" which has sold more than 12 million copies.
Join the family of Doobie Brothers' fans in this thrilling reunion. Book those tickets now!